Switzerland is one of the most beautiful countries in Europe, delighting avid travelers and ski enthusiasts. The name, Switzerland, evokes Heidi's green pastures, the Alps, bewitching hamlets nestled in stunning territories, as well as vibrant city life. Planning a visit? Here are the most beautiful places to visit in Switzerland.
1. Zermatt
Whether you're after skiing or mountaineering, Zermatt has it all. This isn't a place for the lazy, as gasoline-operated vehicles are prohibited here. If you don't mind walking then travel here and enjoy the stunning scenery in its unique territory.
Zermatt is also home to the most famous Alpine peak in Switzerland, the Matterhorn, and this place offers summer and winter activities to visitors of all ages.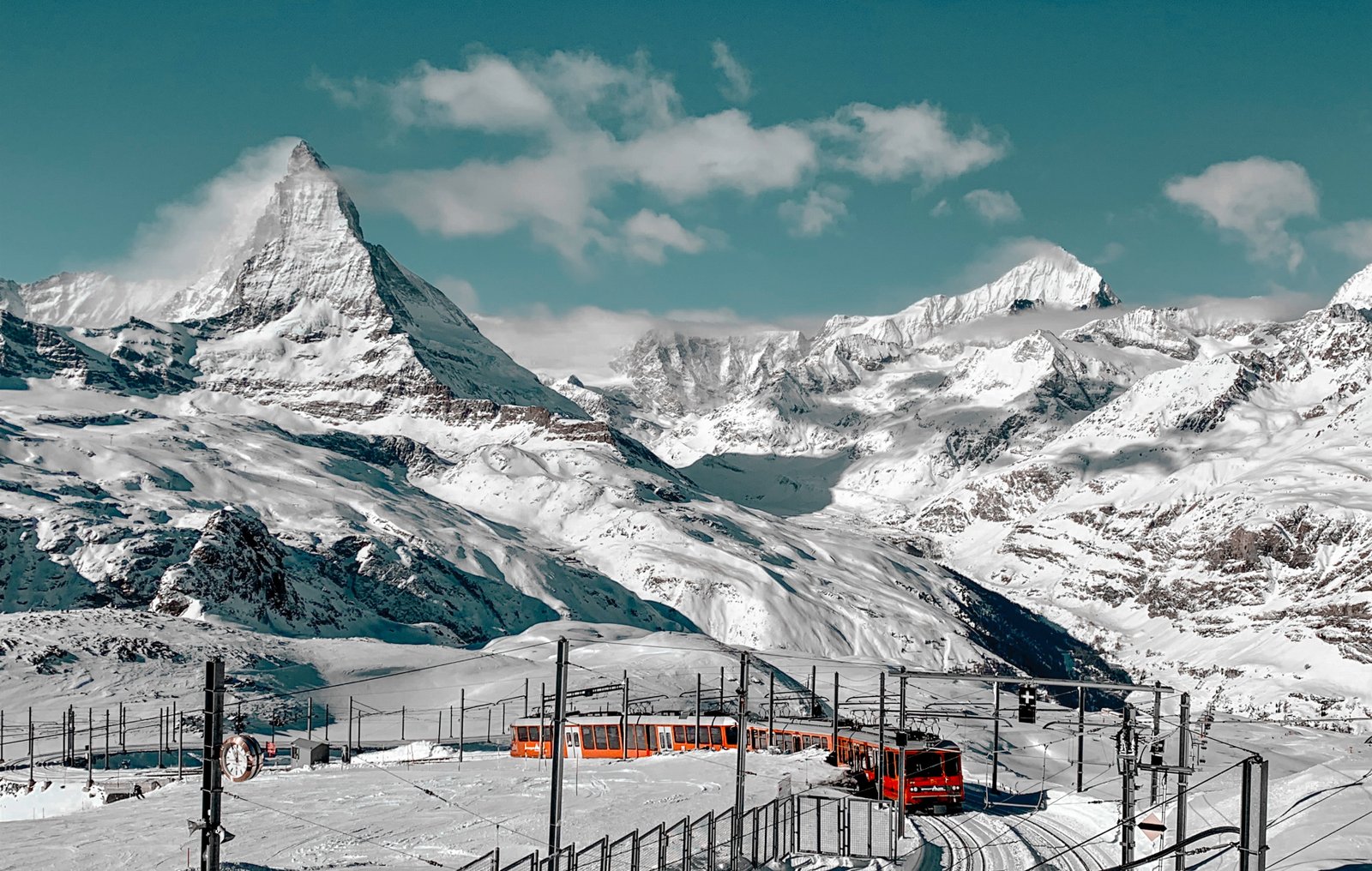 2. Lauterbrunnen
Lauterbrunnen is one of those typical postcards Swiss towns. It's nestled in a breathtaking valley and famed for its imposing rocky cliffs and 72 roaring waterfalls, two of which are casually located in the heart of the settlement.
Discovering its traditional architecture and colorful flower boxes is a must, and a holiday here is perfect for the outdoorsy type.
Lauterbrunnen proposes countless hiking opportunities, as well as all sorts of adventure activities for those who want to feel the adrenaline pumping. Youngsters can also have their share of fun, whether it's enjoying a train ride to nearby Interlaken or spotting alpine flowers up the Flower Trail.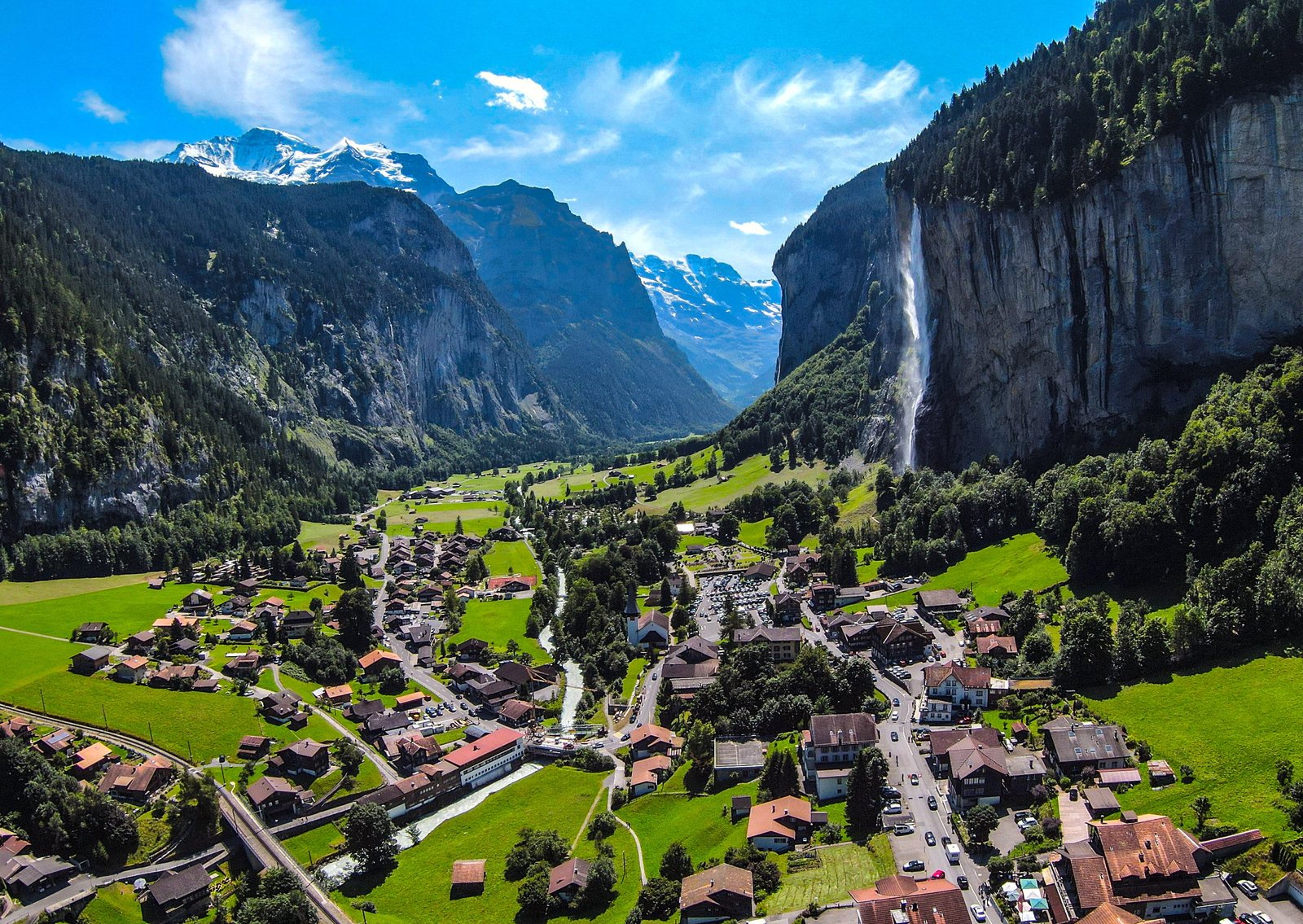 3. Lucerne
The lakeside Lucerne is another postcard-perfect Swiss town with impressive medieval fortified towers, timeworn churches, and charming wooden bridges flanked by a mountainous panorama – it's truly a place where history comes to life.
Perhaps it wouldn't be too different from other Swiss municipalities if it wasn't for its antique frescoes that embellish almost every edifice. If you'd like to know more about Lucerne's art and culture, consider taking this tour.
The unique townscape attracts thousands of curious visitors each year, making Lucerne one of the most fascinating, fairy-tale-like towns for people of all ages.
Beautiful green spaces and an array of restaurants invite you to take a break and relax on the lakeshore, or you could simply get lost among the charming medieval streets. Whichever your choice, this is undoubtedly one of the most beautiful places to visit in Switzerland.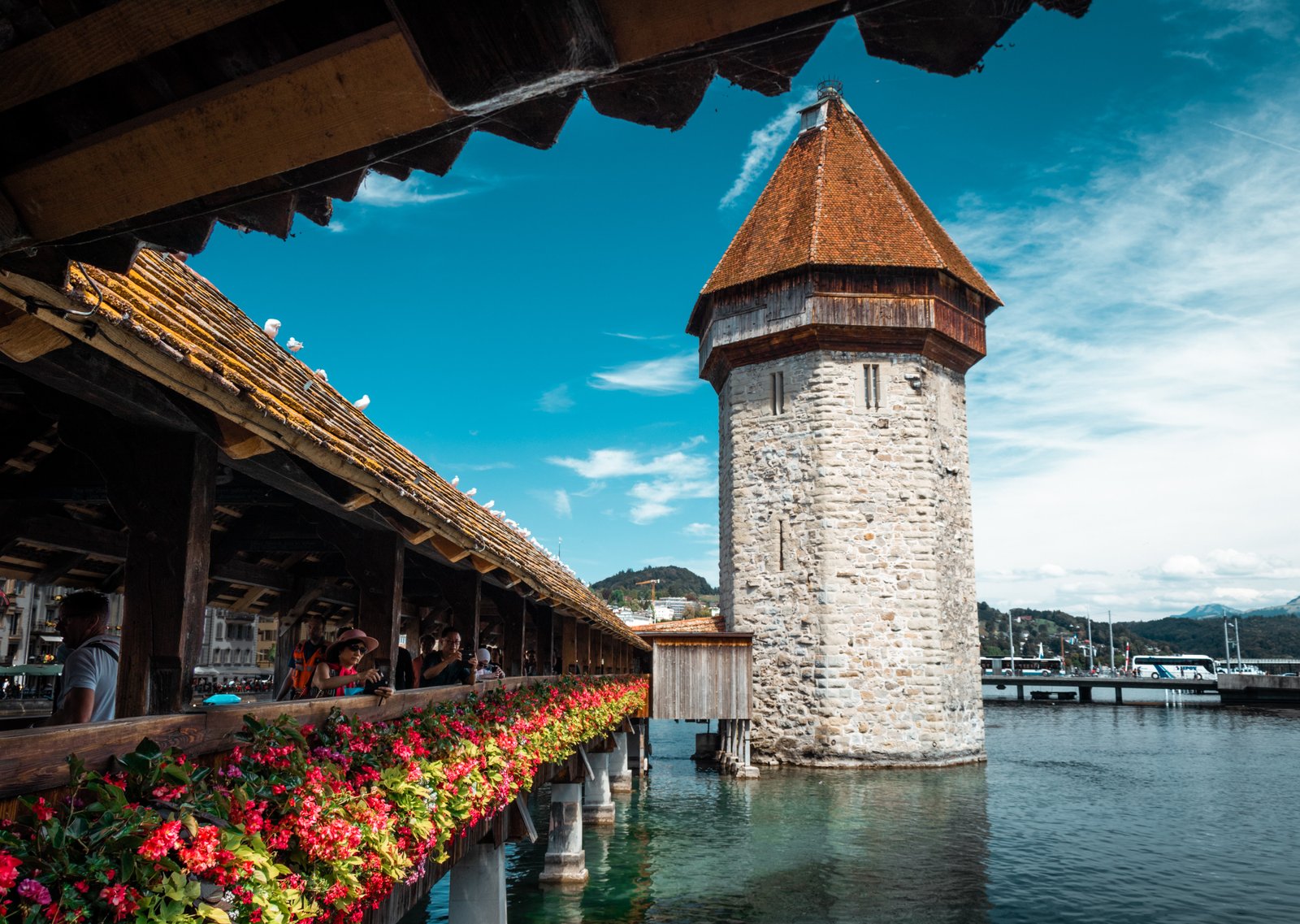 4. Montreux
Known for its mild microclimate and Jazz Festival held in July, Montreux is one of the best summer destinations in the world. It sits in the heart of the Swiss Riviera and impresses with grand Belle Époque buildings and a stunning promenade.
Strolling along it can make you forget all worries, but Montreux's true gem is Chateau de Chillon, nestled on the narrow shore between Montreux and Villeneuve.
Its Romanesque architecture has preserved a medieval charm over the years. Expect ramparts, formal halls, and a 14th-century chapel. Everything in the castle has been kept in its original form, and a visit here can make your dream of charming princes and princesses regardless of your age.
5. Mürren
This astonishing village is one of the coziest places to see in Switzerland. Scenic views over surrounding mountains and endless hiking possibilities are just some of the reasons to come.
It's charming in summer and winter alike, and it's one of the few places from where you can access both Mont Blanc and the Black Forrest.
As far as Bond's concerned, dinner at Piz Gloria means more than simply walking in the footsteps of 007. The 360° Panorama-Revolving-Restaurant promises a unique perspective of the landscape. Just perfect for those moments when you feel the world is not enough.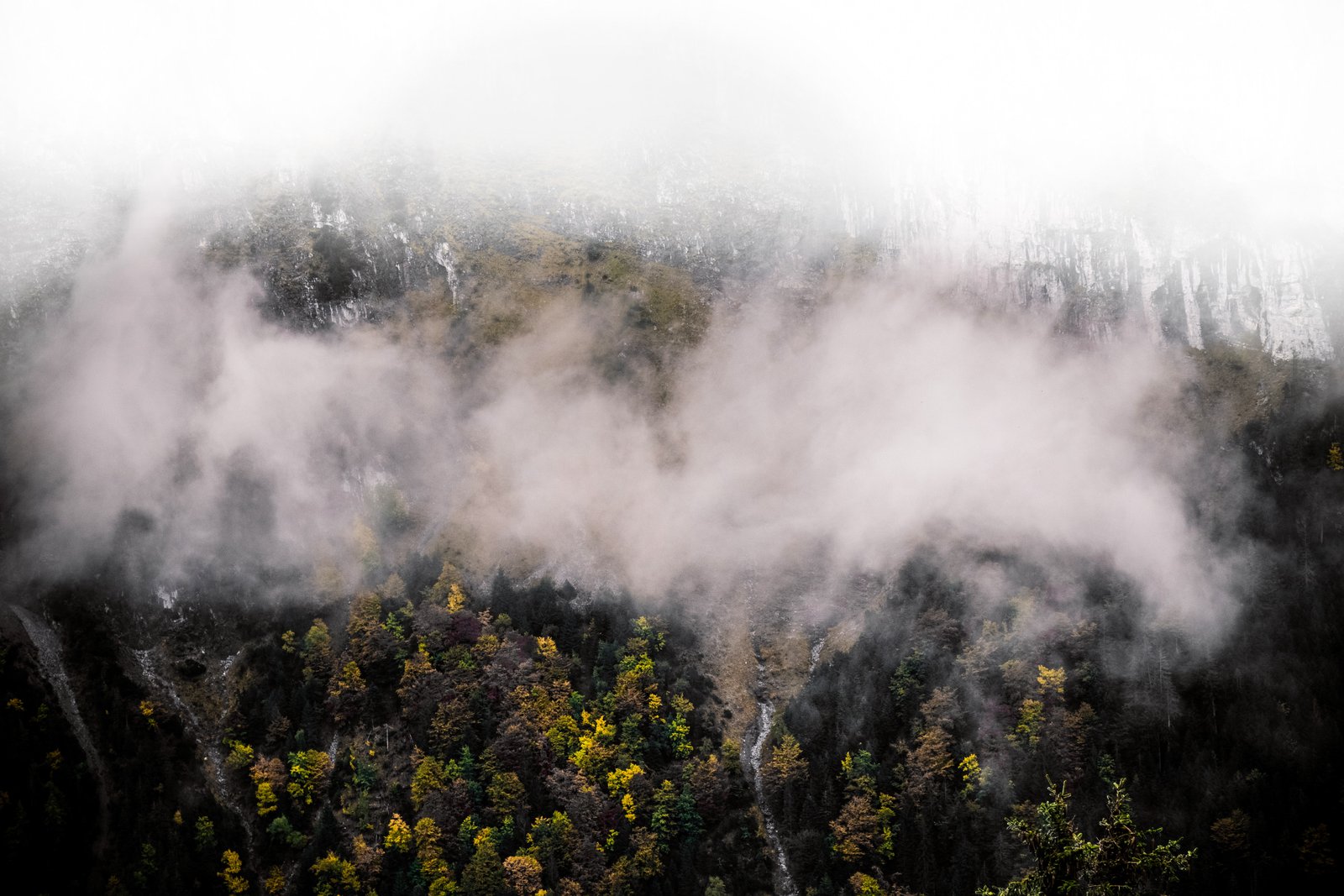 6. Bern
Switzerland's capital is such an underrated destination that only a few know how stunning it truly is. Expect narrow cobblestoned streets, medieval buildings, archaic towers, and sandstone facades,
The Old Town is so magical it's even been named a UNESCO World Heritage Site. This is one of the best-preserved historical centers in the country and offers one-of-a-kind experiences to all sorts of travelers.
Nature lovers will fall for the stunning botanical garden, while the colorful weekly market can melt even the toughest soul.
Hidden within vaulted cellars and narrow streets, the city shows off a whole different side. If you're after nightlife, luscious bars, cafes, boutiques, and cabaret stages, Bern is undoubtedly worth a visit.
7. St. Moritz
Think of impressive glaciers, jagged peaks, and lush forests. That's what you'll get in St. Moritz, one of the most famous winter destinations in the world. This small town has hosted two Winter Olympics and is a must-go for ski enthusiasts.
St. Moritz is all about winter sports. If you're not into skiing, know that you can also enjoy pretty much anything else, from bobsledding to skating.
Sweet little chalets, the deliciousness of mulled wine, and tasty Swiss dishes are just some of the other reasons to visit this place at least once. If you're more of a summer lover, water sports, hiking, and glacier skiing are some alternative reasons to come.
8. Gruyeres
Does the name of this town make you hungry? The resemblance between the town's and the cheese's name is not accidental. This is the home of Gruyere cheese, as well as one of the most beautiful places to visit in Switzerland.
A perfect destination for foodies, outdoorsy, and those looking for unexpected cultural experiences.
From St. Germain Castle to the Tibet Museum, this place intertwines European and Asian culture in the most unexpected ways.
9. Geneva
Switzerland's main hub for international travelers, cosmopolitan Geneva is the second-largest city in the country and also one of the liveliest. It's home to over 200 international organizations, United Nations included, and caters to a sophisticated crowd.
Geneva enchants with elegant green spaces, stylish restaurants, and captivating museums. It has all, from culture to vibrant nightlife. On those days when you crave slower rhythms of life, Lake Geneva overtures a different atmosphere.
Aptly called by the Celts Lem an, it's now referred to as simply lake Léman by the French-speaking locals. Its vast shores are dotted with luxurious chateaus, hillside vineyards, and charming spa towns. All you need to recharge your batteries in either summer or winter.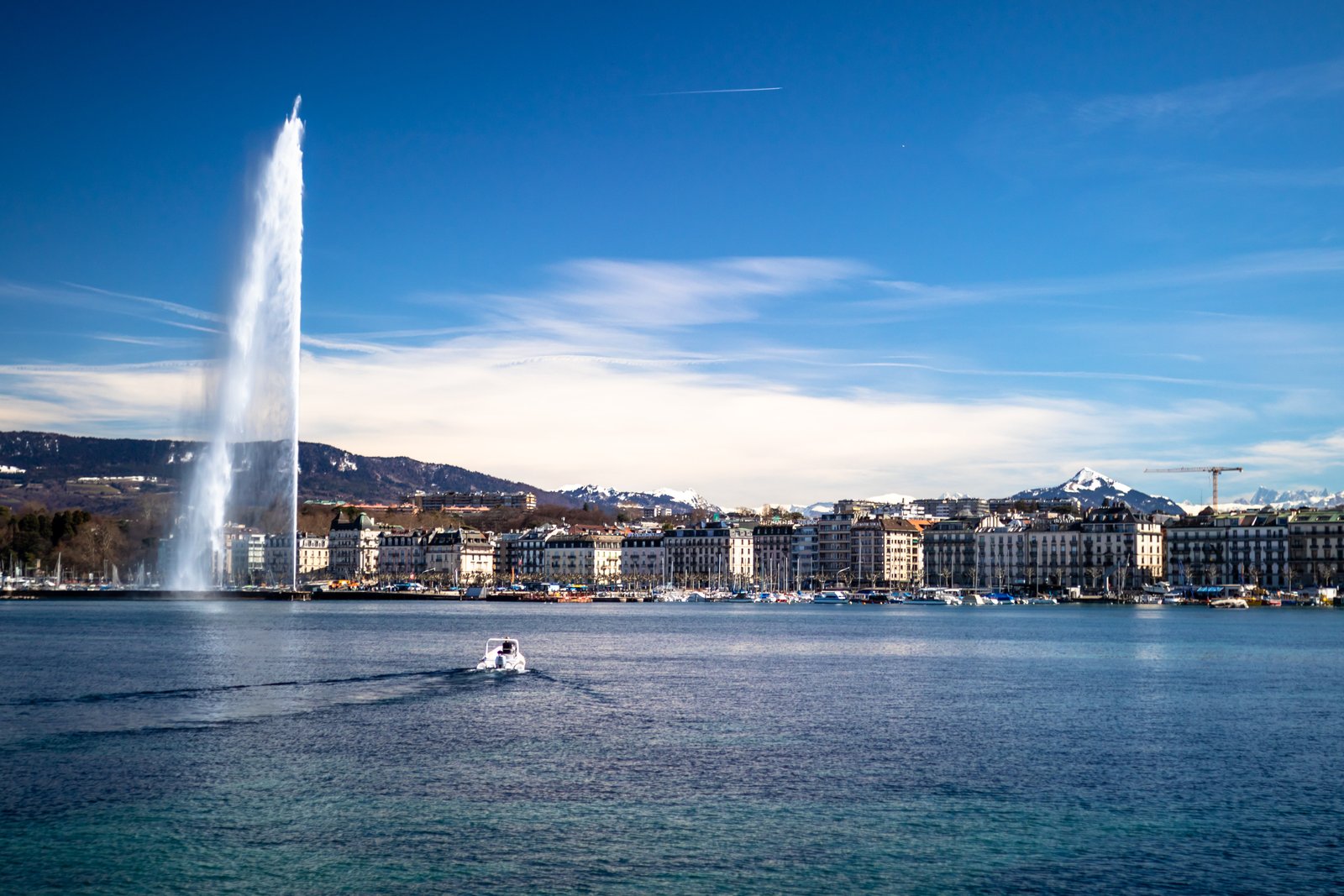 10. Zürich
Another Swiss city to cross off your bucket list while visiting is Zürich. Famous for its rave spirit and more frenetic rhythms, this city blends culture with business and pulsating nightlife.
Emblematic guild houses, repurpose cultural spaces, as well as modern architecture, define the spirit of this fantastic place. It offers everything, from urban landscapes to quaint rural towns, not to mention it's one of the most livable cities in the world.